Description
This is Regenyei Armory's attempt at making a full reproduction of a sword in the München collection. A gorgeous piece and real joy to handle!

Original Museum Longsword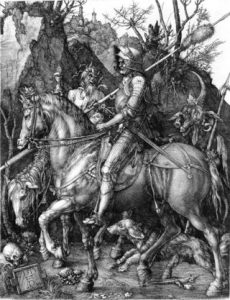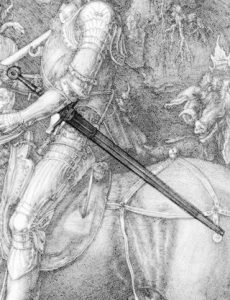 Albrech Dürer, Knight, Death and the Devil (1513)
Blade Type: Diamond, strong
Blade Length: ? cm
Width of blade at the crossbar:
Width of blade 10 cm from the tip:
Tip: Acute (back-rolled available by special order)
Crossbar: ? cm bent-ended
Grip Type: Rectangular waister
Grip Length (including pommel): ? cm
Grip Covering: Black one-piece leather (brown one-piece and spiral colors available by special order)
Pommel: Custom disc-shaped
Weight: Approximately ? grams
Point of balance: Approximately ? cm from the crossbar
The Standard Feder comes with Regenyei's one-year replacement warranty for critical failures under normal usage. All warranties subject to our inspection and approval.